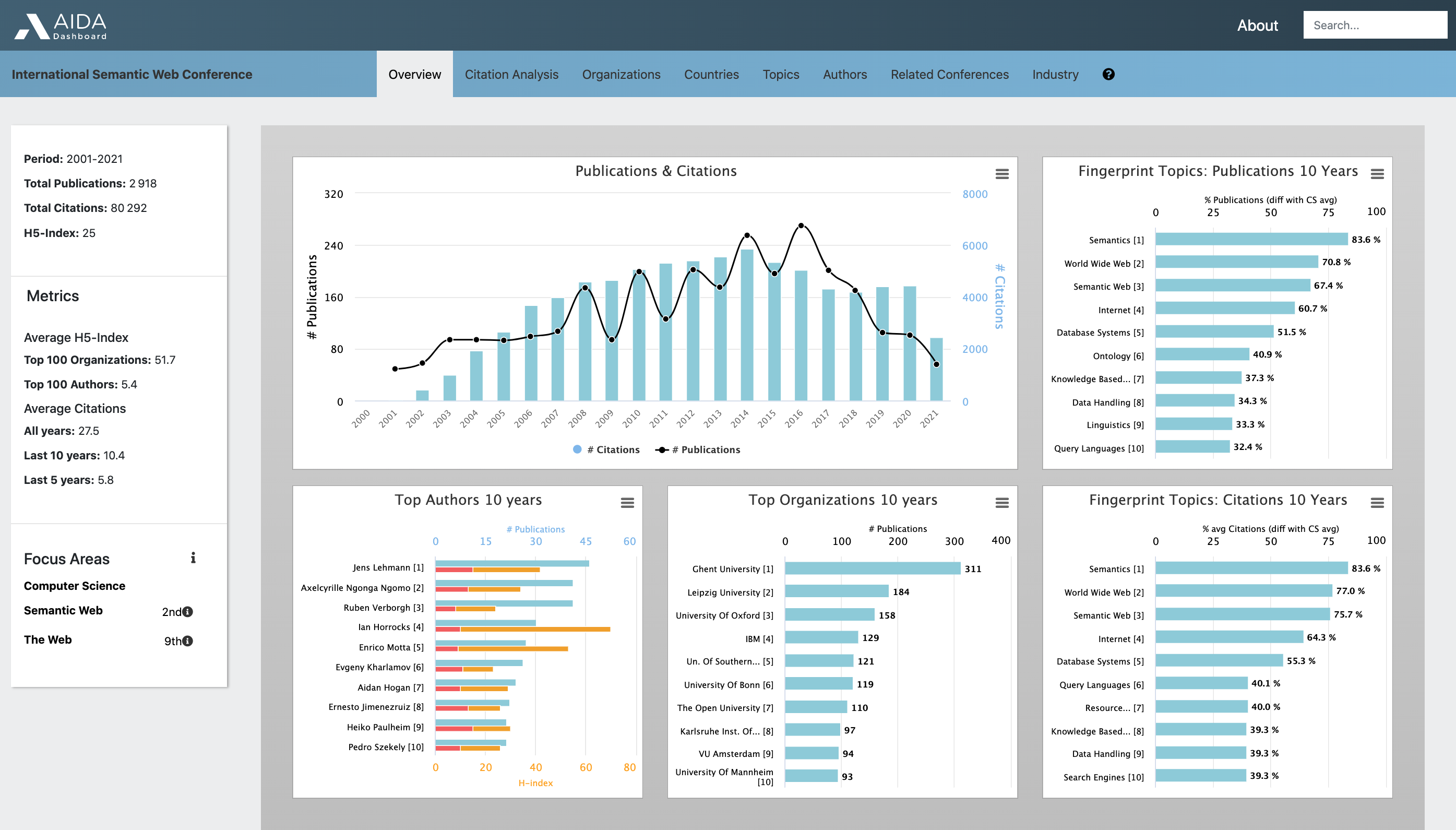 In partnership with Springer Nature and the University of Cagliari, the Scholarly Knowledge Research Group at The Open University's Knowledge Media Institute has developed the AIDA Dashboard, an innovative tool for exploring and making sense of the dynamics of research topics, scientific conferences and journals in Computer Science. These capabilities can be used to provide insights about scientific trends and developments to a variety of users, including researchers, scientific editors, policy makers, funding bodies, and other relevant stakeholders.
The AIDA Dashboard is freely available and can be browsed at https://w3id.org/aida/dashboard. The research data processed by the dashboard is also freely available under a CC-BY 4.0 license on https://w3id.org/aida/downloads.
By means of the AIDA Dashboard, users can explore either a conference or journal venue (e.g., the International Semantic Web Conference or Scientometrics) or a research field (e.g., semantic web). When selecting a conference or a journal the user can visualise a variety of metrics associated with the venue, including number of publications and citations over time, top authors, top organisations, top countries, industry participation, and others. In addition, the dashboard also allows users to perform comparative analyses of scientific venues that cover the same research fields. In particular, when selecting a research field, the dashboard allows the user to rank and compare all the venues in the field according to a variety of metrics, such as, average citations, CORE rank, LiveSHINE, Scimago Journal Rank and others.
Future versions of the dashboard will include both new types of entities, e.g., to provide country-level analytics, as well as new functionalities, e.g., to support predictions of near-future research developments.